I got my ballot package in the mail to vote for the Baseball Reliquary Shrine of the Eternals for the 2013 Election!  Each year, the Reliquary's members elect three candidates from a field of 50 nominees.  We can vote for up to nine from the list.
The Shrine of the Eternals 2013 Induction Day will be held on Sunday afternoon, July 21, 2013.
From 2011, here Maury Wills spending a few minutes with me before  his induction into the Shrine in 2011.
Last year Dr. Frank Jobe, Mudcat Grant & Luis Tiant were inducted into the Shrine of the Eternals.
Tommy John who introduced Dr. Frank Jobe
Gentlemen:  You look marvelous!
The Tony Salin Memorial Award.  In addition to the Shrine of the Eternals inductees,  the Tony Salin Memorial Award (presented annually to an individual dedicated to the preservation of baseball history) is given on this day.  Among the past recipients have been Peter Golenbock, Richard Beverage , Mike Shannon, Stew Thornley, Paul Dickson and Dave Kelly in 2012.
Richard Beverage accepting the Tony Salin Memorial award in 2007.
Master of ceremonies Terry Cannon greets Paul Dickson as he comes to the stage to accept the 2011 Tony Salin Memorial Award for his commitment to the preservation of baseball history.
Hilda Award.  Another award given is the Hilda Award (named in memory of Hilda Chester and honoring a baseball fans exceptional devotion to the game) is given on this day.
From the Baseball Reliquary website, among the past recipients of the Hilda Chester award have been :
2001.  Rea Wilson.  In the Summer of 2000, at the age of 77, Rea Wilson of Seal Beach, California made a pilgrimage to all thirty MLB ballparks traveling alone in her van.
Hilda Award.  Cowbell awarded to Rea Wilson.
2003: Ruth Roberts.   In 1963, she wrote "Meet the Mets," which is played before every Mets home game. In fact, the song is such a staple among generations of New York baseball enthusiasts that some diehard Mets fans have requested that, upon their death, "Meet the Mets" be sung at their funeral before their casket is closed.
2006.  Bill Murray. Comedian and actor Bill Murray, the first "celebrity fan" to receive the Hilda, is a Chicago Cubs fan extraordinaire and part owner of the St. Paul Saints (a franchise in the American Association, an independent professional baseball league), for whom he also serves in the capacity of team psychologist.
2007.  Cass Sapir.  In 2006, documentary filmmaker Cass Sapir crisscrossed the nation in an old Honda, traveling to every Minor League and Major League ballpark, a total of 189 stadiums, in an astounding 157 days. The Cambridge, Massachusetts resident used his self-financed road trip as a means of raising money and awareness for the Jimmy Fund, a Boston-based charity that raises funds for cancer research.
2008.  John Adams.     John Adams of Brecksville, Ohio was celebrating in 2008 his 35th consecutive year of pounding his bass drum in the bleachers at Cleveland Indians games, come rain or shine. Adams has twice thrown out a ceremonial first pitch at Jacobs Field and was honored in 2007 with his own bobblehead night (naturally, it was designed so that his arms could be bobbled up and down to bang on a toy drum).
2010: Sister Mary Assumptazaba.   Sister Mary's passion for baseball has been focused largely on her beloved Cleveland Indians. She wrote and edited her own segment, "Tribe Habit," for the ABC television news affiliate in Cleveland.  Baking cookies for the Indians players since 1984 eventually led to a small business operation called "Nun Better" Cookies, with the profits helping support her religious community.  She also had two cameo appearances in the 1989 film, Major League, and even has her own baseball card (made by Upper Deck in 1997).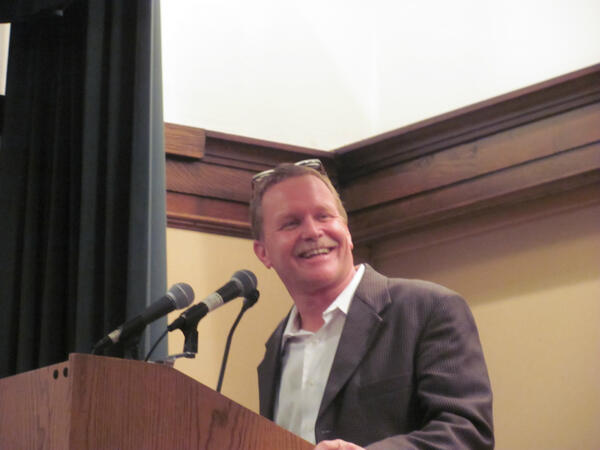 2011:  Chris Erskine.  Chris Erskine's weekly columns in the Los Angeles Times, "Man of the House" and "Fan of the House," have been widely lauded for their wry insights and (often) tongue-in-cheek celebrations of fatherhood, life in the suburbs, and sports as a way of establishing relationships with children and sharing a distinct sense of belonging with others in his community.  Whether ruminating on the experience of being a volunteer coach for Little League baseball or rhapsodizing about a Chicago-style hot dog at an Angels game, he examines the myriad ways that baseball allows fans to pass time and to connect with their personal histories.
2012: Arnold Hano.   Arnold Hano attended his first baseball game in New York in 1926 as a child, and saw all the greats of that era from his seat in the bleachers.  Memorable moments he witnessed in baseball history include the last game Babe Ruth pitched for the New York Yankees (1933), Don Larsen's perfect game in the World Series (1956), and Sandy Koufax's first no-hitter (1962).  His account of the first game of the 1954 World Series between his beloved New York Giants and the Cleveland Indians,A Day in the Bleachers, is a classic of baseball literature and one of the most enduring expressions of the meaning of fanhood, especially of those who sit in the bleacher seats.
Arnold Hano accepting the Hilda Award in 2012.
And the recipient of the 2013 Hilda Chester award:   Emma Amaya.  Yes!  that is me!  🙂
Terry Cannon was at the Dodger game against the Pirates on Friday night.  He said "I got something for you"   I thought he was going to lend me the book (Baseball) Diamonds are a Girls Best Friend that I could not check out from the Burbank library.   I was shocked when I read the letter.  I am also so honored.  Those are giant shoes I am following.
Thank you so much  Terry and Mary Cannon, the board of directors and the membership of the Baseball Reliquary.  I've been grinning from ear to ear since I found out the news!
Last year I attended an event sponsored by the Baseball Reliquary titled "The Dodger Giant Rivalry" On one corner you had Arnold Hano and on the other Ross Porter. Jean Ardell was the moderator.
At that time I had not read Arnold Hano's book "A Day in the Bleachers". Now that I am reading this book, I wish I had an opportunity to ask Mr. Hano some questions.
I had seen this book a few times before, but I never got the inclination to read it, the reason: Well, because is about the Giants. But is more than about the Giants. Is about 1954, the Cleveland Indians. Is about a different era, a ballpark that does not exist. About a time that you did not have to pay so much money to see a World Series game. A more innocent time. Is about Baseball History.
The book has a wonderful introduction by by Roger Kahn. The game starts where Mr. Hano tells his wife he will go to the stadium early to stand in line to get a ticket in the bleachers. Once he gets there, he has his doubts if he can get in after seeing the long line to get into the bleachers. But his thinking is that if not, he will purchase a standing room only ticket. He barely makes it in and once he is in, you feel like you have been transported to that era and that you are there at the Polo Grounds. Mr. Hano is a wonderful story teller.
I am half way thru the book (5th inning) and the score is tied 2-2. Sal Maglio is pitching for the Giants and Bob Lemon for the Indians.
Harold Cano tells this:
but not all the fans were on Maglie's side. As he mounted the stairs a woman in a red beret to my right and about five rows down shouted that he'd be getting an early shower. I leaped into the fray and announced to all and sundry that she was an American-League bum.

She stood up, turned around faced me "Who says I'm an American-League bum?" she yelled.

I said, "I say so. You're an American-League bum."

she held up a banner and waved it at me. It read"Brooklyn Dodgers."
Could she had been Hilda Chester?