I love it when I can celebrate my birthday at a stadium, especially if it is Dodger Stadium.
Dodgers lost by a large margin on June 28, 2013.   The final score was Phillies 16, Dodgers 1.  The Phillies had 21  hits to the Dodgers 5.  Capuano just plain did not have it.  He had pitched excellent in his last two starts with the prior start on three days rest.
Even with the blowout I had a great time at Dodger Stadium.   So many friends made it special.  It started with Doreen and Cynthia who worked in the dugout and brought me some Red Velvet cake, cupcakes along with napkins, blue planes and forks.  Inside the bag was a beautiful birthday card and they also gave me a Dodger birthday button.
Here is Cynthia in this picture from San Diego.  Payaso and JD also in the picture.
I got to find a picture of Doreen.  I know I have several.
Stan Kasten.   I ran into Stan Kasten the day after my birthday and he said "Happy birthday again"  lol.
Greeting sign on the big screen: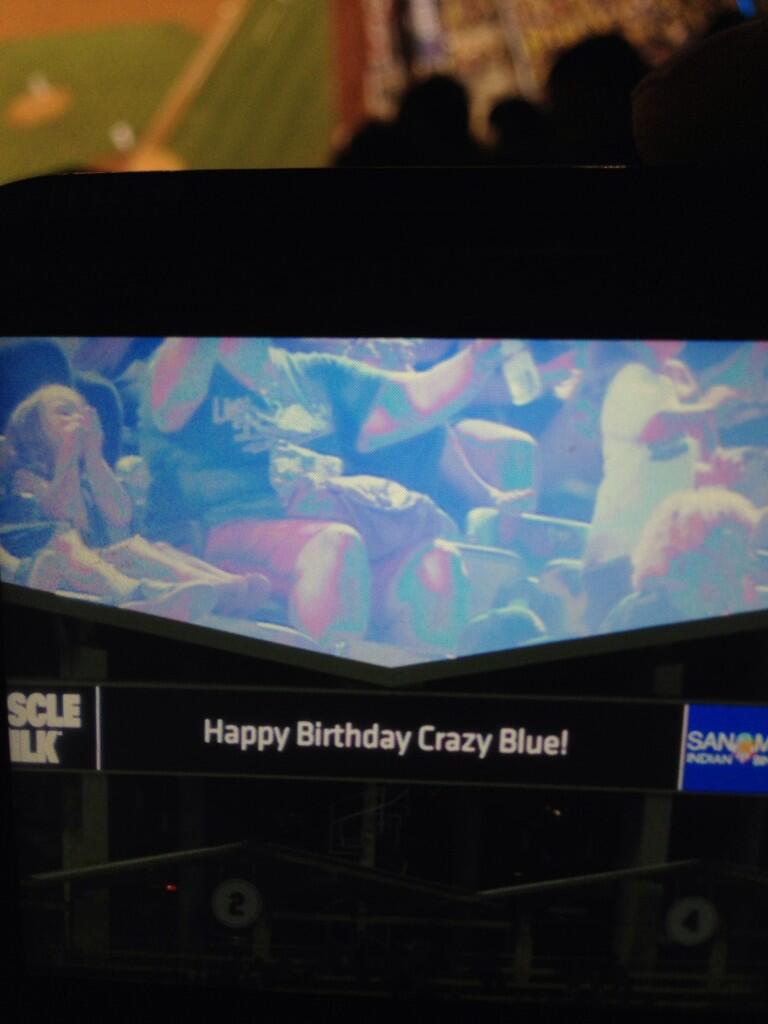 I took a few pictures.  Here I am with the Maestro Jaime Jarrin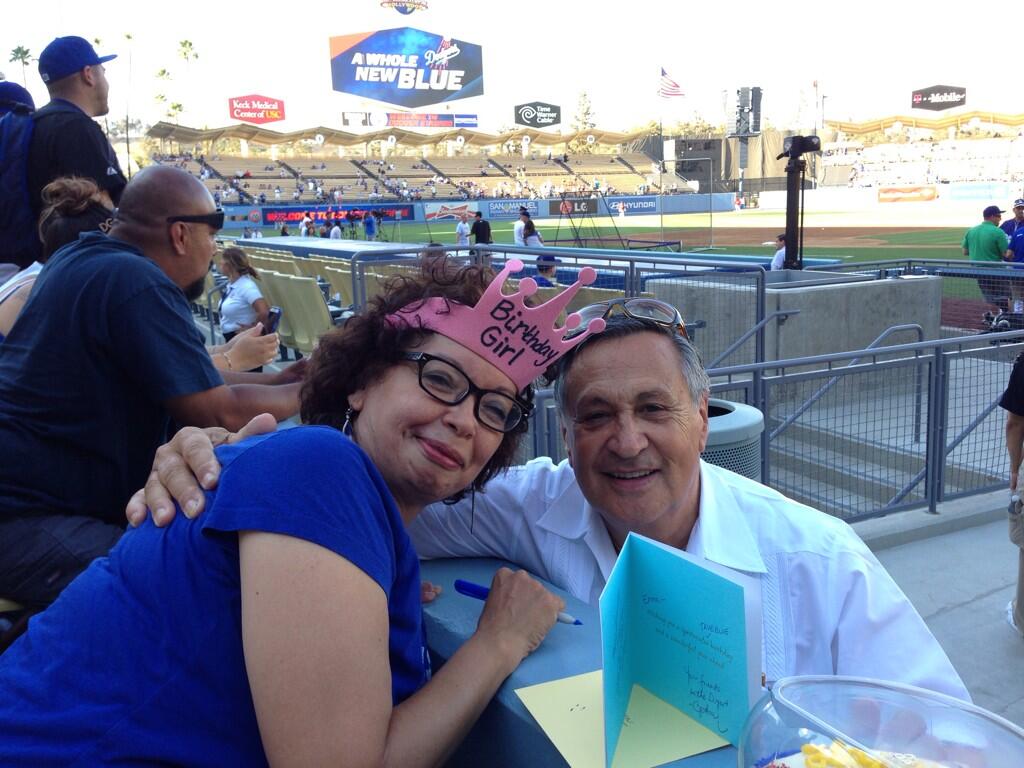 Lorena gave me this framed pictured of the two of us at the Jackie Robinson & Pee Wee Reese statue located outside the Brooklyn Cyclones ballpark.
Dodgers posted this on twitter
It is always a pleasure to ran into Sweet Lou at the stadium.  He was telling us that his wife finally made him and let him eat plenty of corn bread
Bill Russell was passing by signing for some fans so I asked him for a picture after signing a baseball card for me.
Jim Hill was also going by so I asked him to pose with me for a picture.  I don't think Jim Hill has aged since I started watching him on TV when I was a little girl 😉
I called the skipper, Kevin Kennedy also to pose for a picture.   The icing on the cake was the skipper wishing me a happy birthday on the air.  Note the Kershaw pillow that I got from Amanda.
Thank you to everyone that make my birthday at Dodger Stadium extra special.  A special thanks to Lorena.  Thank you kid!
In the last seven years, the Dodgers are 4-3 on my birthday.
For the month of June Dodgers went through a stretch of nine losses in twelve games in June,but they finished with a record of 15-13.   They are still in last place but only 3 1/2 games back.
Dodgers start a three game series with Colorado with Clayton Kershaw on the mound. After the three games with Colorado, they will head to San Francisco for three then is on to Arizona.
Go Dodgers!
Sweet Lou still has that infectious smile.  He is an integral part to the Dodger Community Relation department. 
 
Back in 2008, a friend from the InsidetheDodgers blog asked me if I knew if Sweet Lou Johnson had recovered his World Series Ring.  
I'll tell you all about the ring, but first let me give you a little history on Sweet Lou. 
Sweet Lou Johnson was born September 22, 1935 in Lexington, Kentucky. 
He played in the Negro Leagues in 1955 with the Indianapolis Clowns and The Kansas City Monarchs.  
Sweet Lou was a journeyman outfielder, promoted from the Dodgers triple-A Spokane at the age of 30, only when Tommy Davis broke his ankle early in the 1965 season.
1965 Sweet Lou and Koufax.
He hit the decisive home run in Game 7 of the World Series against the Minnesota Twins with Koufax on the mound.  
he collected the only hit in the 1-0 perfect game thrown by Dodger ace Sandy Koufax on September 9, 1965.  
He hit only 12 home runs that year–

but that was enough to tie for the team lead

! 
He played three more seasons but never equaled the magic of 1965. 
Losing and Recovering his World Series Ring.
Two years after he retired in 1969, desperate for a cocaine fix, Johnson gave his World Series ring to a Seattle drug dealer as collateral.
He drove across town for the money
When he returned two hours later, the drug dealer and the ring were gone.   
One day in 1980, Johnson had two phone numbers written on a piece of paper. One belonged to Don Newcombe.
Johnson intended to dial the other number but, under the influence, mistakenly called Newcombe, who had kicked his own alcohol problems and was working for the Dodgers as a counselor.

Newcombe arranged for Johnson to attend, at the Dodgers' expense, a treatment center. Johnson became clean on Nov. 9, 1980, and after he completed the program, Newcombe arranged for him a job in the organization.

For the past 30 years, Johnson has worked in community relations, speaking to schoolchildren about his experiences and acting as a goodwill ambassador for the team.
And he hasn't slipped once.  
Here is Sweet Lou working with kids from Sober College in Woodland Hills, CA. 
"Don Newcombe told me, 'If you ever take another drink, I'll break your legs,' and they ain't broke yet," Johnson said with a laugh. "What the Dodgers did was they put some pride back in my life."
They also got his ring back. It was discovered in an unclaimed safety deposit box and was being auctioned on the Internet. Johnson didn't have the $3,500 to buy it, so the Dodgers bought it for him.
The ring made Johnson complete again when it was returned in 2001, 30 years after he lost it, an act that further indebted Johnson to a Dodgers organization he credits for saving his life. 
Sweet Lou:  You are very dear to us Dodger Fans!
Ref:  Daily News (los Angeles), Bill Plaschke of the LA Times.