I love it when I can celebrate my birthday at a stadium, especially if it is Dodger Stadium.
Dodgers lost by a large margin on June 28, 2013.   The final score was Phillies 16, Dodgers 1.  The Phillies had 21  hits to the Dodgers 5.  Capuano just plain did not have it.  He had pitched excellent in his last two starts with the prior start on three days rest.
Even with the blowout I had a great time at Dodger Stadium.   So many friends made it special.  It started with Doreen and Cynthia who worked in the dugout and brought me some Red Velvet cake, cupcakes along with napkins, blue planes and forks.  Inside the bag was a beautiful birthday card and they also gave me a Dodger birthday button.
Here is Cynthia in this picture from San Diego.  Payaso and JD also in the picture.
I got to find a picture of Doreen.  I know I have several.
Stan Kasten.   I ran into Stan Kasten the day after my birthday and he said "Happy birthday again"  lol.
Greeting sign on the big screen: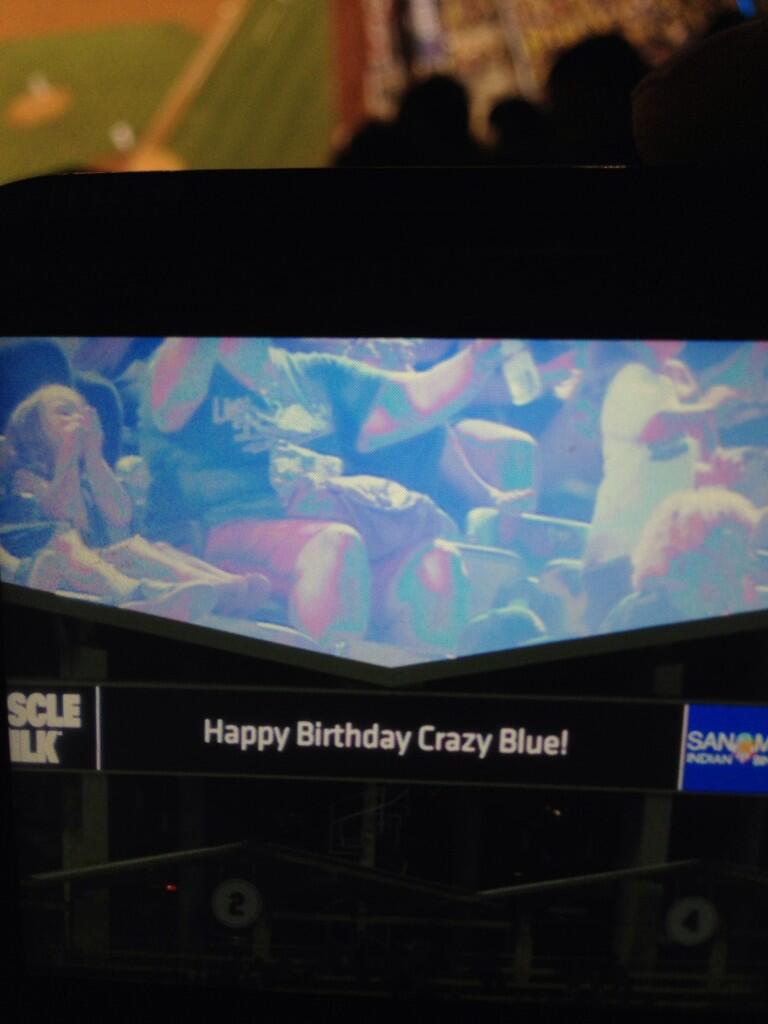 I took a few pictures.  Here I am with the Maestro Jaime Jarrin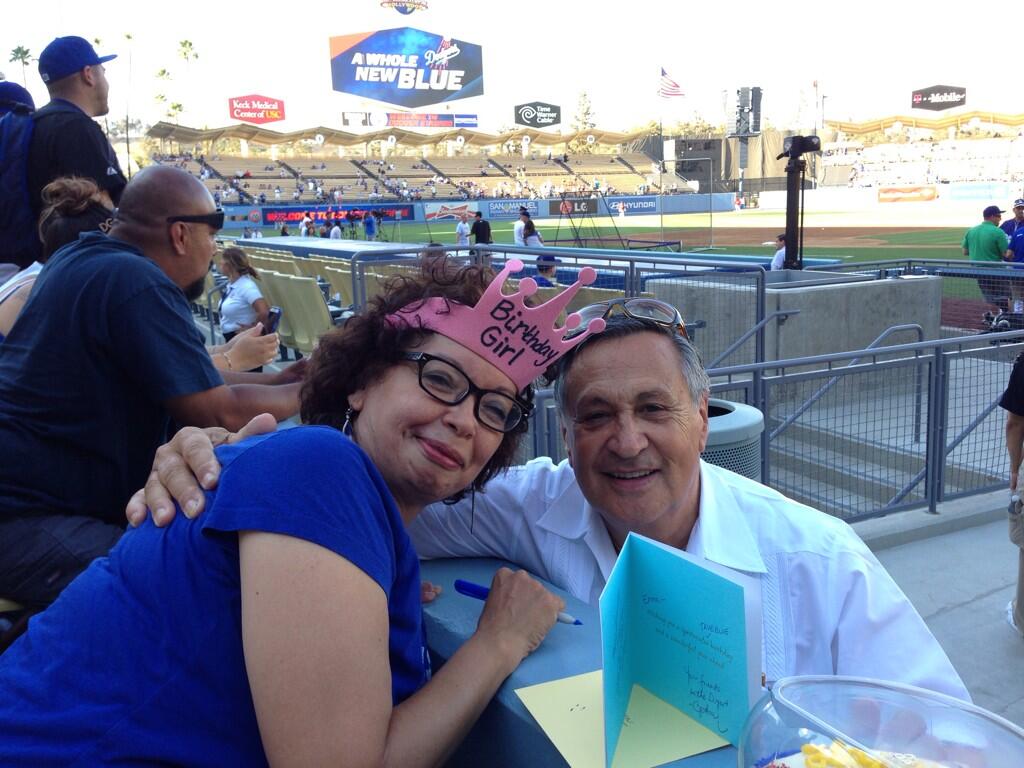 Lorena gave me this framed pictured of the two of us at the Jackie Robinson & Pee Wee Reese statue located outside the Brooklyn Cyclones ballpark.
Dodgers posted this on twitter
It is always a pleasure to ran into Sweet Lou at the stadium.  He was telling us that his wife finally made him and let him eat plenty of corn bread
Bill Russell was passing by signing for some fans so I asked him for a picture after signing a baseball card for me.
Jim Hill was also going by so I asked him to pose with me for a picture.  I don't think Jim Hill has aged since I started watching him on TV when I was a little girl 😉
I called the skipper, Kevin Kennedy also to pose for a picture.   The icing on the cake was the skipper wishing me a happy birthday on the air.  Note the Kershaw pillow that I got from Amanda.
Thank you to everyone that make my birthday at Dodger Stadium extra special.  A special thanks to Lorena.  Thank you kid!
In the last seven years, the Dodgers are 4-3 on my birthday.
For the month of June Dodgers went through a stretch of nine losses in twelve games in June,but they finished with a record of 15-13.   They are still in last place but only 3 1/2 games back.
Dodgers start a three game series with Colorado with Clayton Kershaw on the mound. After the three games with Colorado, they will head to San Francisco for three then is on to Arizona.
Go Dodgers!
I way behind posting these pictures from the Steve Garvey Celebrity Softball Classic to benefit ALS.
Thank you Mike for inviting Vic and I for this event. A group of us made the trip after the Dodger game to Pepperdine in Malibu for this event. The traffic was a little heavy but the ride on PCH is beautiful.
Here is the booklet which many of us had Steve Garvey signed:
I did not see Tommy Lasorda but he could have been there early for the Festival, we got there about 5:30. It looked like it was a fun festival. I also missed the auction that they had during the festival.
Some of my pictures did not come out but here are some pictures
Here is Steve Garvey batting in full uniform. His son is there ready to run for him.
Jose Canseco practicing his swing as Maury Wills looks on.
Pete Rose with someone wearing a Hollywood Stars jersey:
Jay Johnstone, Maury Wills, Bill Russell, Ron Cey, Jerry Reuss
3/4 of the longest playing infield
Gilbert, Mike and I looking on.
My brother Vic with CSI star Omar Miller. He was very friendly. .
Jose Canseco, Jennine and I

Mike and Jennine with Bill Russell
Jennine and Garvey :
Mike, Steve Garvey and I. I told Garvey that he looked like he could still play. He said "Oh you are so kind, thank you. "
Thanks again Mike for the invite! It was a great event for a great cause!

What does Brooklyn Dodger Jim Hughes and L.A. Dodger Bill Russell have in common?
They both wore uniform #18 !!!!
In March's MLB Fan latest leaders, my blog ranked #18. I dedicate it to Brooklyn Dodger Jim Hughes and LA Dodger Bill Russell.
Jim Hughes, a hard-throwing relief pitcher for the Brooklyn Dodgers of the 1950's, set a franchise record for saves that endured for 35 years.
Hughes led the major leagues in saves, with 24, and in games pitched, with 60, in 1954.
"He was a big, tough guy," recalled Tommy Lasorda, Hughes's onetime roommate when Lasorda pitched briefly for Brooklyn. "It would take him three, four pitches to get warm. After a few pitches, he was fogging it. Nothing but hard stuff. Didn't have a breaking ball."
Hughes had two careers as a fireman — one, informally, in baseball, and another in carrying on a family tradition in Chicago.
When he began to quell nonbaseball fires, Hughes could not resist playing on the obvious when he visited one day with his former Brooklyn Dodgers manager, Walter Alston, who was sometimes known as Smokey. Hughes donned a Dodgers jersey for a photo with Alston, but that was not all. As his son Michael recalled: "He had a fire helmet on his head, he carried an ax and he had a hose over his shoulder."
Bill Russell played 18 years in the majors, all with the Los Angeles Dodgers. With Steve Garvey, Davey Lopes and Ron Cey he formed the longest running (and perhaps the greatest) infield in baseball history.
He appeared in 10 post-season series for the Dodgers. He made 4 trips to the World Series with them, in 1974, 1977, 1978, and then finally winning a title in 1981, but was unable to duplicate that success later as their manager.
One time I ran into him when the Dodgers had the Triple-A 51's team in Las Vegas. He was there checking the umpiring. I've ran into him at Dodger Stadium several times.
He currently works for Major League Baseball's umpiring division.
Thank you everyone that visit my blog. Of the top 20 fan blogs, 9 are she-fans, lead by the number ONE she-fan Jane . Congratulations to everyone!
Congratulations to the blogsphere 5th year anniversary! I've been here a year and months but I have been posting longer than that! I love that we share our love for this grand great game!
They may be Bums, but they are MY BUMS! Go Dodgers!!