Vin Scully has called Dodger Stadium, the Magic Castle. That is what it was on Wednesday, The Magic Castle, The happiest place on Earth.
Greinke loaded the bases in the first inning with no outs but for some reason, I was not nervous. Greinke got out of it with no runs scored by the Cardinals. Greinke ended up giving up two runs in the third but that was all in his seven innings of game 5 of the NLCS. The bearded one, Brian Wilson was lights out in his 8th. Kenley Jansen in the 9th gave ME palpitations. The Cardinals scored two more runs but Kenley got out of it. Dodgers had four homeruns in the game: Adrian Gonzales off Kelly, Crawford off Kelly, A.J. Ellis off Mojica and Adrian with his second one off Oxford. Final score: Dodgers 6, Cardinals 4.
After game 3 on Monday, Waingwright said that Adrian's celebratory gestures were Mickey Mouse. I wore my Dodgers Mickey Mouse ears for game 4 and 5. I lost track of how many fans asked me "Where did you get the Mickey Mouse ears?" They wore selling them back in 2010 at Disneyland when the MLB All-Star game was in Anaheim. My friend Greg and Linda who have yearly passes wore able to get them for me back then.
After Adrian's first homer-run he did this:
Adrian was asked about it afterwards and he said he was just having fun.  when he hit his 2nd home-run, he was all business.   Adrian likes Mikey Mouse!  Anyone remember when he came from Boston to the Dodgers? He was wearing a Mickey Mouse shirt.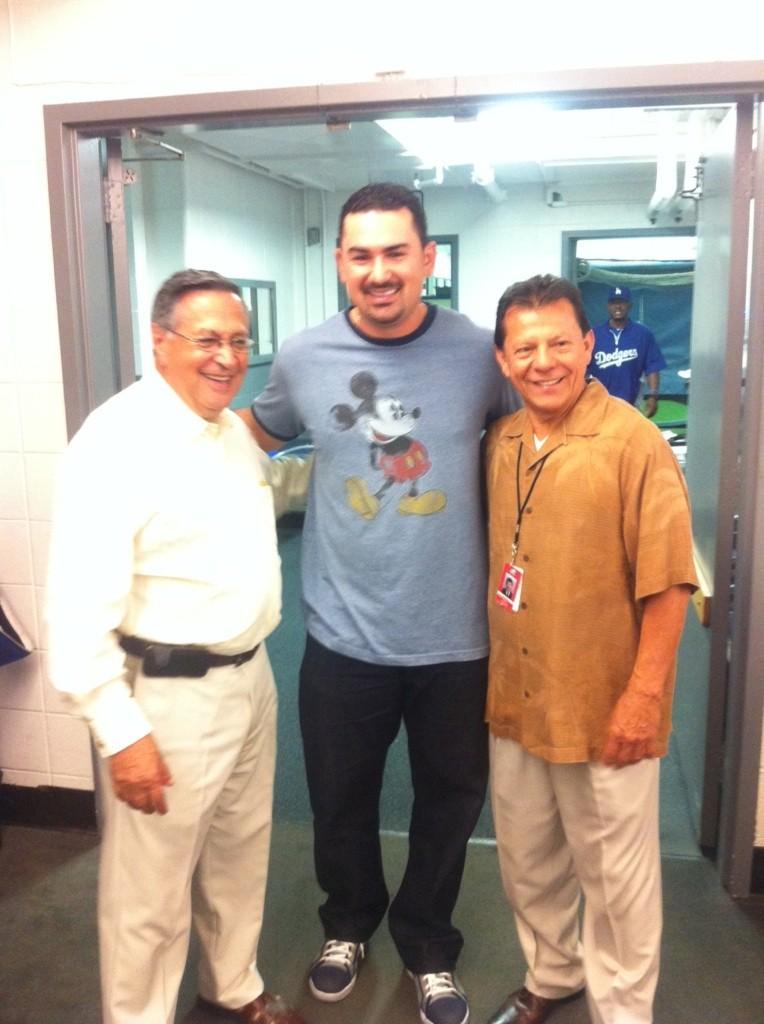 Adrian Gonzalez with his Mickey Mouse t-shirt when he came to the Dodgers from Boston.  In the picture, HOF Jaime Jarrin and Pepe Yniguez, Spanish broadcasters for the Dodgers.
We were all having fun with Waingwright's comment  and that is the reason I wore my Mickey Mouse ears.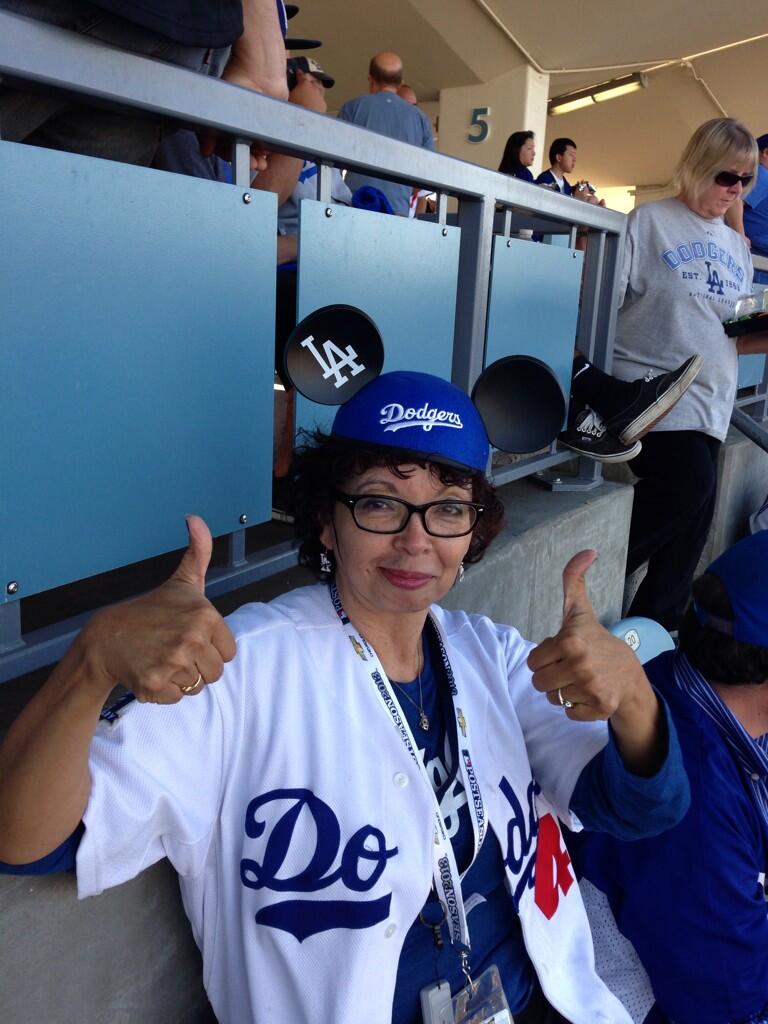 My friend Greg also wore his for Tuesday's game
Ok, enough Mickey Mouse stuff.  haha.  OK, one more picture that Hector Becerra of the LA Times took when he snuck in behind me.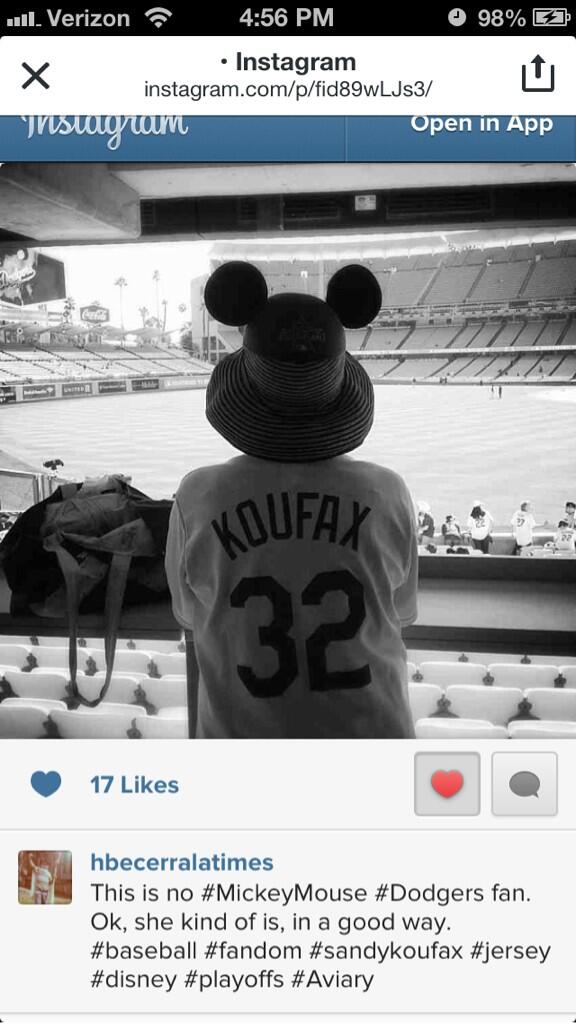 Several people at work approached the following day "Were you wearing Mickey Mouse ears at the game?"   "I saw you on TV"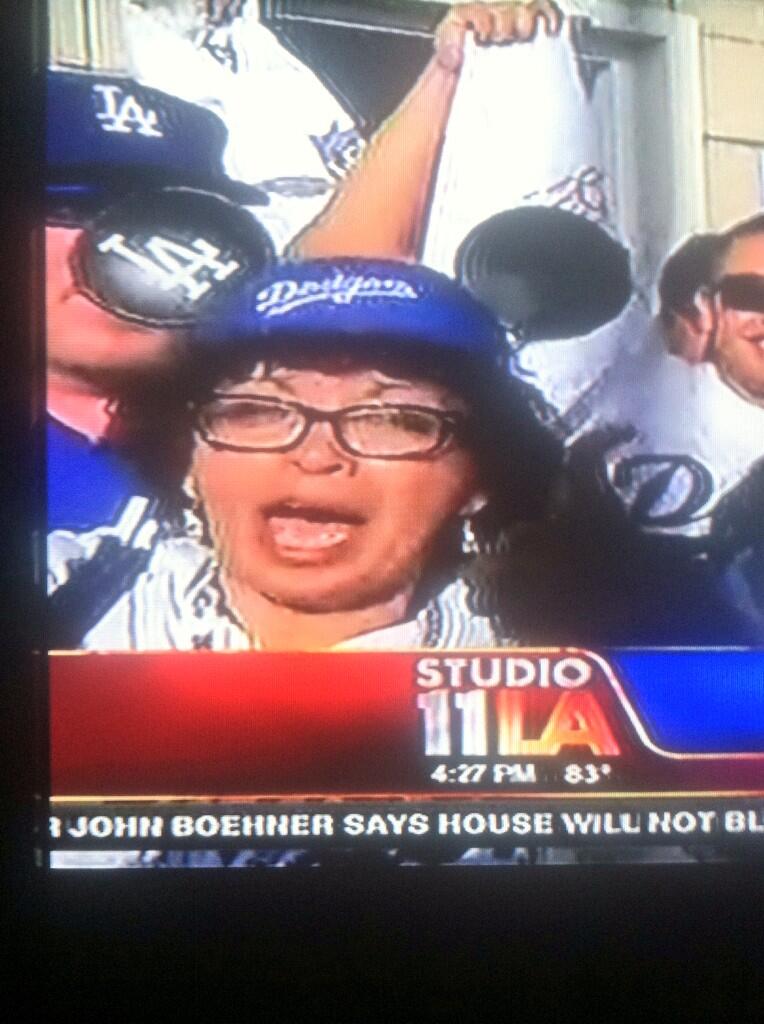 Yep that is me!  It is a good thing I asked for a day vacation instead of "calling in sick"  As it was I was in a little trouble at work for forgetting about a meeting on Wednesday but hey!  my vacation day got approved.
OK so the Dodgers are back in St Louis for game 6.  Clayton Kershaw against Michael Macha.  Game time at 5:30  Let's go Dodgers!
Let's give Kershaw some run support