Remember back in March of this year when Clayton Kershaw was on the cover of Sports illustrated this year?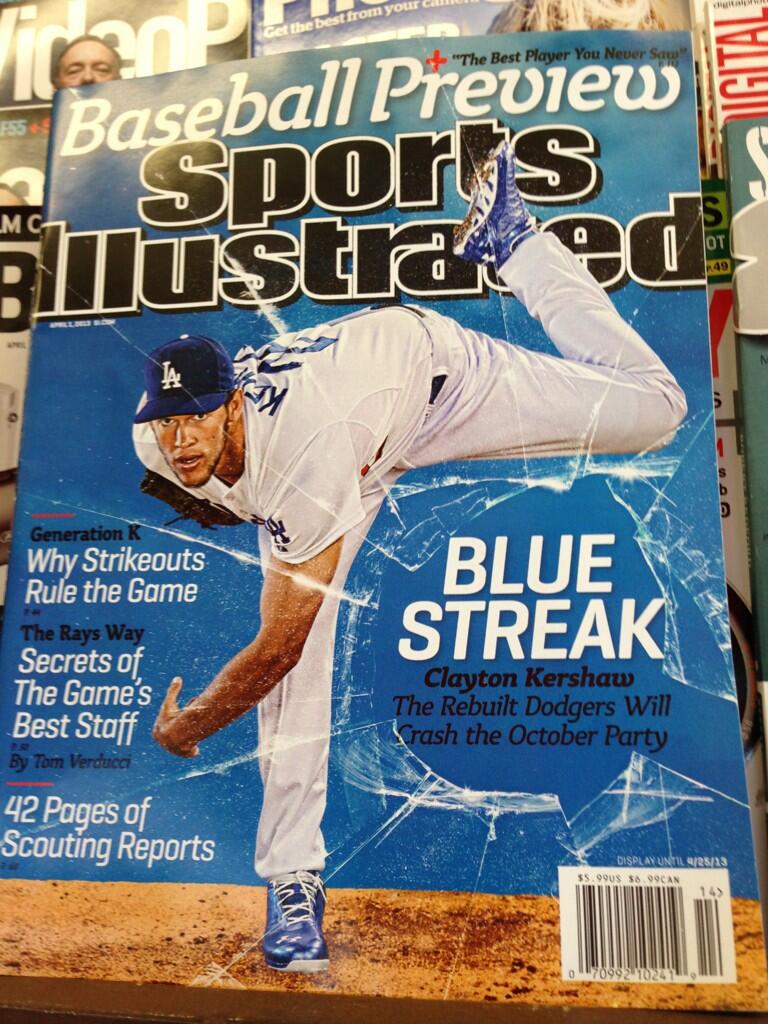 some fans thought it would be bad luck.  I remember back in March hunting down for the magazine.  Some had a different cover but I found copies in Northridge for myself, Lorena and Rosie.  Well it was not bad luck for Kershaw to be on the cover.   With a record of 16-9, and an ERA of 1.83, he won the National League Cy Young Award.  Congratulations Mr. Sunshine.
When Kershaw won the award in 2011, he had a record of 21-5 with an ERA of 2.28.  After the announcement in 2011, the Dodgers invited Season Ticket holders to join in the celebration on the field.  I had taken the train to work but when I got the email, I borrowed the work company car and I went to the event.  What a fun day at the stadium that was!  Don Newcombe & Fernando Valenzuela were also there.
Only Sandy Koufax and Kershaw have won more than one Cy Young award with the Dodgers.   Sandy did it in 1963, 1965 & 1966.
The first recipient of the Cy Young award was Don Newcombe in 1956.  For the first eleven years (1956 – 1966) only one winner from Major League Baseball was selected.
Don Newcombe went 27-7 with a 3.06 ERA in 1956 to capture the Cy Young
Ref:  MLB, Dodgers, LA Times, ESPN,  SABR
I have been very busy that I have not updated my blog lately.  I hope to get back on track.   I may not be posting as often but I am always thinking Blue and following any baseball news.  I am currently reading the book "It Pays to Steal"  by Mauy Wills.
I drove to work Monday because the traffic was going to be lighter on Veterans Day and because I had made an appointment to cut my hair and color it.   Since I was going to be there a little longer than just getting a haircut, I took the book with me.   Well, I forgot the book there.  I had rented the book from the Los Angeles Central library.  I had to drive the following day (I usually take the train to work)  to go pick up the book.
On my way home I was thinking… They don't know I am a big Dodger fan and a baseball fan.   I don't think they follow the game. What did they think when they read the book title  "It Pays to Steal."    I  know I had the bookmark  on chapter 9 "Formula for success"…. Maybe when I go back I will ask Carmen what they thought when they read the title.
I have not created a new post since November 2nd when I posted about our three Dodgers -Matt Kemp, Andre Ethier and Clayton Kershaw winning Gold gloves.
What a happy day in Los Angeles yesterday when it was announced that Clayton Kershaw had won the NL Cy Young Award! I was anxiously waiting for the results on Thursday. I was busy with a Webinar at work with phone and computer busy but I was keeping an eye on my droid.  Sure enough it started beeping with the good news. But in addition to the good news there was an email from the Dodgers inviting us season ticket holders to attend the conference on the field of Dodger Stadium. What was I to do when I had taken the train to work and I was still in the middle of the webinar?  Good thing it ended promptly at noon and there were no further questions.
the email said the conference was to start promptly at 1:30 p.m and that fans could start arriving at 12:30 p.m. I called to see if the company car was available. I was lucky! It was available!  I then headed to see my boss and told him I had an emergency and had to leave but would be back later on.
What a great day being back at Dodger Stadium! Clayton Kershaw was there with his wife Ellen. Matt Kemp and James Loney were also there.  Maury Wills was also there.  Prior CY Young award winners Don Newcombe & Fernando Valenzuela were also there.    Dodgers who have won the Cy Young:   Don Newcombe (1986) Don Drysdale (1962), Sandy Koufax (1963, '65. '66), Mike Marshall (1974), Fernando Valenzuel (1981), Orel Hershiser (1988), Eric Gagne (2003) and Clayton Kershaw (2011).
  Congratulations Clayton Kershaw!
More pictures: