Vin Scully has called Dodger Stadium, the Magic Castle. That is what it was on Wednesday, The Magic Castle, The happiest place on Earth.
Greinke loaded the bases in the first inning with no outs but for some reason, I was not nervous. Greinke got out of it with no runs scored by the Cardinals. Greinke ended up giving up two runs in the third but that was all in his seven innings of game 5 of the NLCS. The bearded one, Brian Wilson was lights out in his 8th. Kenley Jansen in the 9th gave ME palpitations. The Cardinals scored two more runs but Kenley got out of it. Dodgers had four homeruns in the game: Adrian Gonzales off Kelly, Crawford off Kelly, A.J. Ellis off Mojica and Adrian with his second one off Oxford. Final score: Dodgers 6, Cardinals 4.
After game 3 on Monday, Waingwright said that Adrian's celebratory gestures were Mickey Mouse. I wore my Dodgers Mickey Mouse ears for game 4 and 5. I lost track of how many fans asked me "Where did you get the Mickey Mouse ears?" They wore selling them back in 2010 at Disneyland when the MLB All-Star game was in Anaheim. My friend Greg and Linda who have yearly passes wore able to get them for me back then.
After Adrian's first homer-run he did this:
Adrian was asked about it afterwards and he said he was just having fun.  when he hit his 2nd home-run, he was all business.   Adrian likes Mikey Mouse!  Anyone remember when he came from Boston to the Dodgers? He was wearing a Mickey Mouse shirt.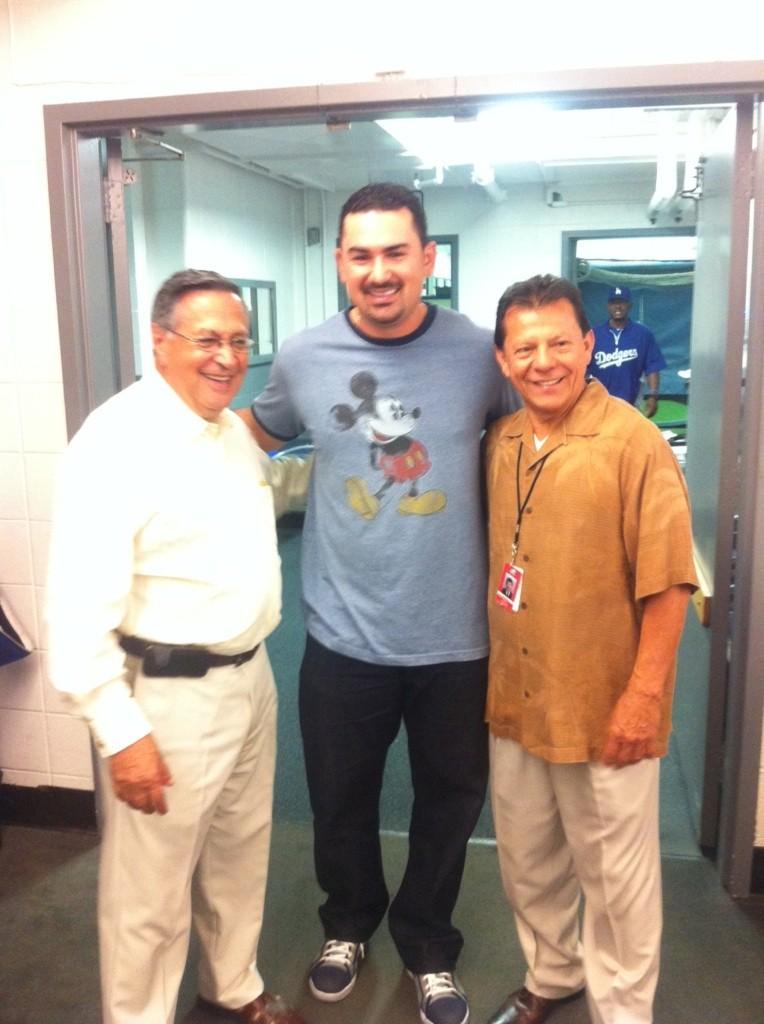 Adrian Gonzalez with his Mickey Mouse t-shirt when he came to the Dodgers from Boston.  In the picture, HOF Jaime Jarrin and Pepe Yniguez, Spanish broadcasters for the Dodgers.
We were all having fun with Waingwright's comment  and that is the reason I wore my Mickey Mouse ears.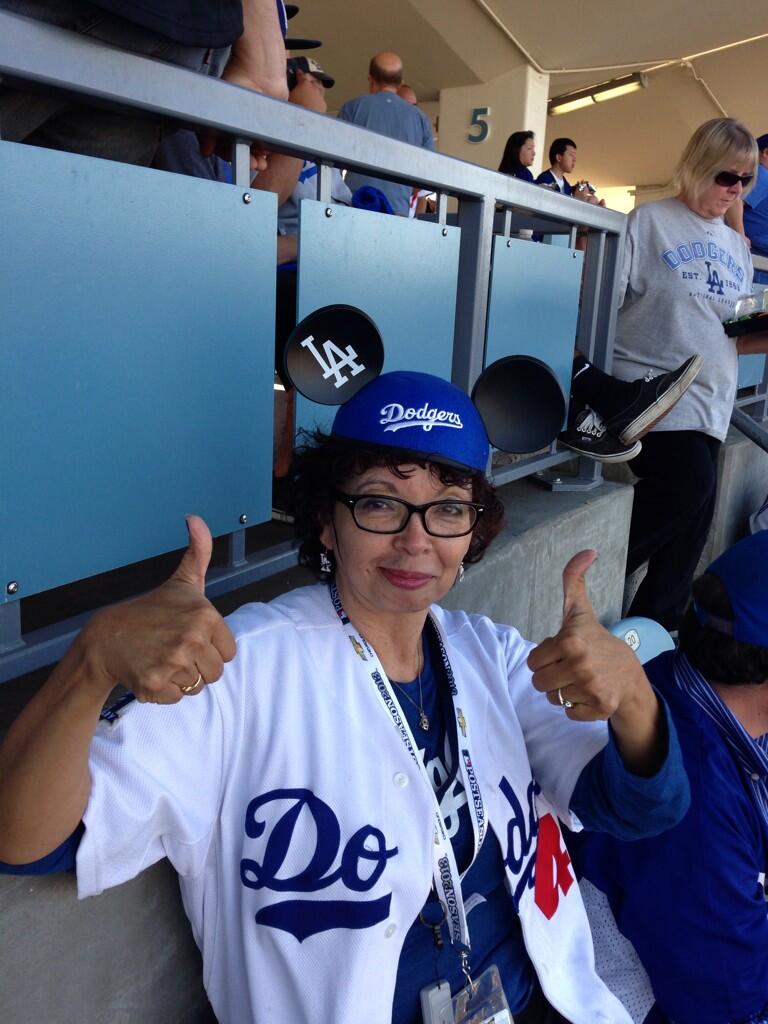 My friend Greg also wore his for Tuesday's game
Ok, enough Mickey Mouse stuff.  haha.  OK, one more picture that Hector Becerra of the LA Times took when he snuck in behind me.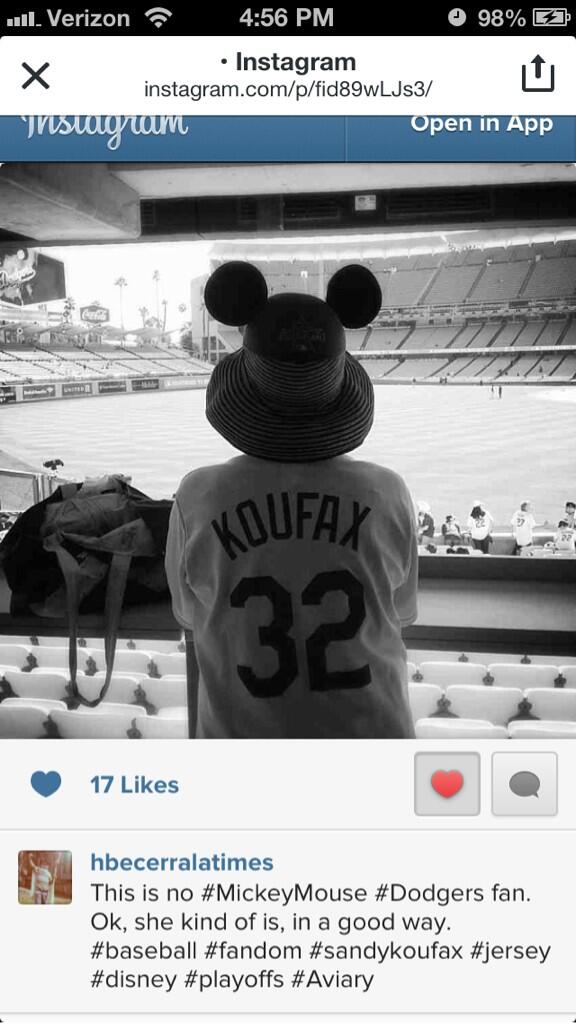 Several people at work approached the following day "Were you wearing Mickey Mouse ears at the game?"   "I saw you on TV"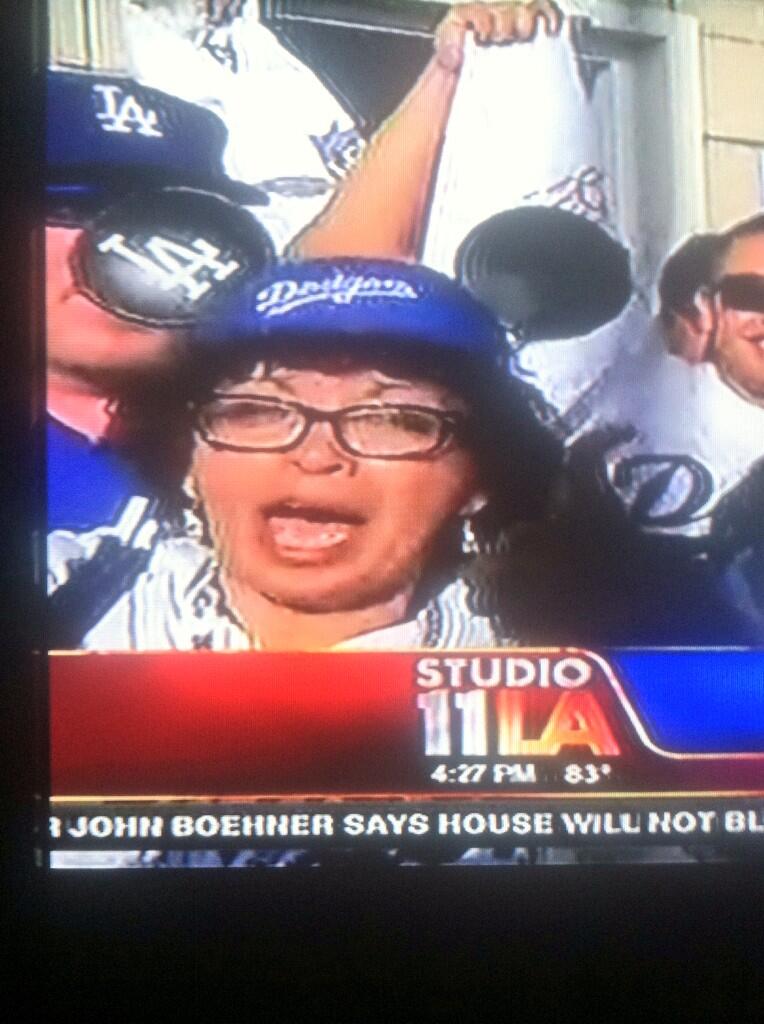 Yep that is me!  It is a good thing I asked for a day vacation instead of "calling in sick"  As it was I was in a little trouble at work for forgetting about a meeting on Wednesday but hey!  my vacation day got approved.
OK so the Dodgers are back in St Louis for game 6.  Clayton Kershaw against Michael Macha.  Game time at 5:30  Let's go Dodgers!
Let's give Kershaw some run support
I spent Wednesday at Anaheim going to the orientation session in order to volunteer for the FanFest.
I have the second shift noon to 5 p.m. Friday, Sunday and Monday. I will try to change Sunday to the 1st shift of 9 a.m. to Noon so that I have time to make it to the game on Sunday.
I left Saturday open since is Photo Day at Dodger Stadium followed by the game. Saturday is also the Poster Day for the Big Blue Wrecking forum.
I am looking forward to meeting PastorKyle and seeing the rest of the posters of the forum. There will be other people there as part of the group for those BBWC posters that could not make it.
Thank you BabyToes for putting this together. Babytoes is also volunteering at the FanFest. Here is Babytoes next to the All-Star Mickey Mouse:
Linda (behindblueeyes) is also volunteering. Here she is also posing with the All-Star Mickey Mouse.
The Cubs are at Dodger Stadium for a four game series. Today is All-Star Andre Etheir action figure. This is figure two (first one was Matt Kemp). The last one will be of Manny Ramirez. It is only for kids 14 and under but let's see how I can get a hold of one.
They did a video at the stadium of Matt Kemp and the action figure. I can't wait to see the one with Andre tonight.
And I can't wait to see Andre at the All-Star game. I will be in the right field side, upper deck.
Let's Go Dodgers! Is Cub hunting season again!
All-Star FanFest in the works. This guy with the Strasburg jersey is also volunteering.
More All-Star FanFest in the works
Wednesday when I went to Jury Duty in Downtown LA, I noticed that there is this Pittsburg Pirate Mickey Mouse at Union Station. I had seen one at Anaheim Stadium when I went there for the All-Star FanFest interview. I did not have my camera that day but Friday I made sure I had it with me.
After googleing about the the Mickey Mouse, I read that there are 36 varieties of statues including designs for all 30 clubs to celebrate the All-Star game here in Anaheim. I learned that there are three in the Los Angeles.
After work I made my rounds. First Union Station:
After taking a few pictures at Union Station, I walked to the Music Center in Dowtown. The walk is uphill. I should have taken a bus but it was worth it to see the DODGER Mickey Mouse !
In back of that fountain there was a huge group of people dancing with an instructor on stage teaching Indian (from India) dancing. Yep! I joined in!
Here is another picture of the Dodger Mickey Mouse
Here is the back of of the Dodger Mickey Mouse
OK, so after doing some dancing (or trying to follow the instructor with the dance moves), I headed to the third Mickey Mouse that is in LA.
ESPN LA Live has the Yankee Mickey Mouse
The LA Live is next to the Staple Center, home of the 2010 World Champion Lakers! A few blocks away from there is the Convention Center where they are having the Anime convention. I've never seen so many costumes! I took a picture with this guy
It was sad to read that the Red Sox Mickey Mouse that was somewhere in Anaheim, was vandalized. His arm is being repaired.
I'll try to go take pictures of the ones that are in Hollywood sometime this weekend. They have Royals, Reds, Indians, Mariners and Phillies. I have pictures of the the Pirate and Yankee Mickey Mouses also if anyone likes me to post them, let me know.
Contratulations to Gibby on his first win as a manager. Now Dodgers go take the next two!
Let's Go Dodgers!
Thank you all that read my blog and comment! I made #17! Woohoo! When I think of #17, I think of Carl Erskine! I admire Oisk! That is why a few years back I purchased a baseball with his signature at Dodger Stadium. On the baseball he wrote the date of his no-hitters.