I am dressed and ready to head to OLOCR (Our Lady of Chavez Ravine)   I got my Mission October shirt, my Sandy Koufax jersey and I will take my Dodger poncho to wear later.   I can't wait to be there! 
  Julio Teheran goes for the Braves,
Dodgers sent rookie  Hyun-jin Ryu.  Game
Fernando Valenzuela will be thrown out the first pitch and Sandy Koufax is scheduled to be there tonight and tomorrow night. 
The calm before the storm at Dodger Stadium  
Take a look at Stephen Seemayer's  painting for today
'We Brandish Our Torches!' Painting by The L.A. Blue Bum Acrylic on cardboard (Oct. 2013)
We brandish our torches! Ilumina los valientes!… (Let blue balls fly.)
For more paintings, go to
www.labluebum.com
Here is his prior painting
Steve and I were featured in an article in the La Times today by Hector Becerra. 
I am super excited for this series! The day is finally here! Thursday at 5:30 PM PT at Turner Field. Kershaw 16-9 1.83 ERA will face Medien 15-12 3.11 ERA.
I leave work via Metrolink train so when I leave I will have my headphones listening to the game. I should have a "Do Not Disturb" sign. As I am typing this, this co-worker that is a Giant fan is talking to another co-worker telling him "I'll be rooting for the Braves" then he looks at me doing the tomahawk chant. UGRR I hate that.
This morning on the train I open the LA Times and went thru the whole sport section seeing no mention of the Dodgers. Then I kept looking thru the paper until I found this special Dodger Section!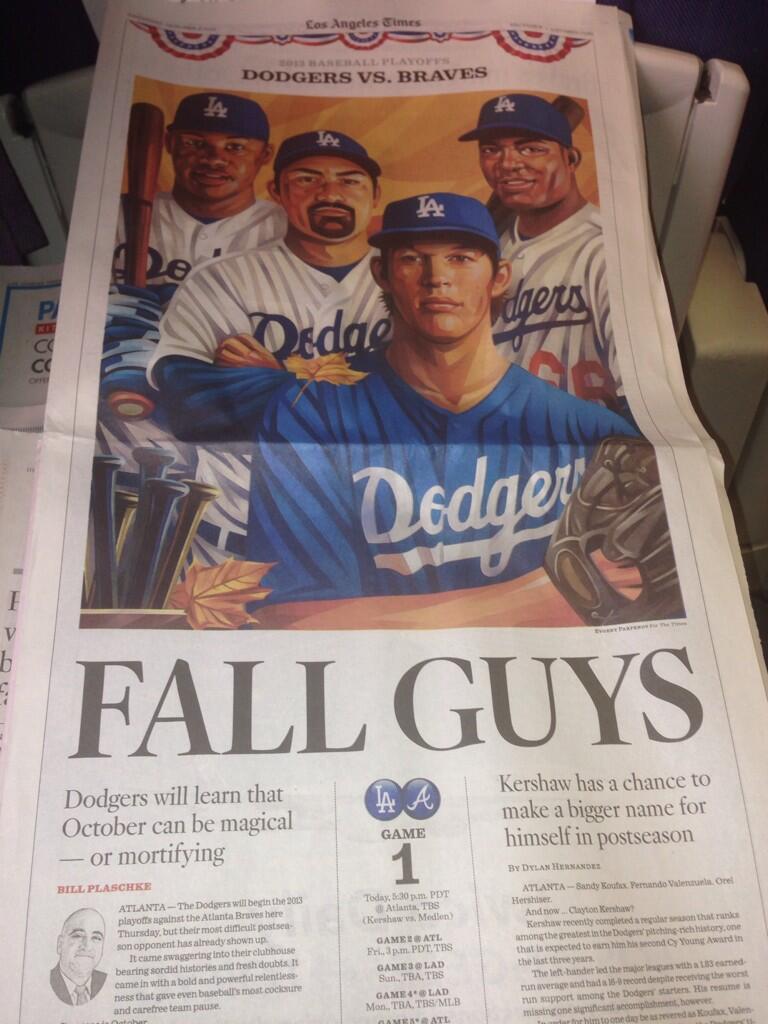 LA Times special Dodger playoff section!
Last night I stopped at the Olvera Street church. La Placita to light a candle for the Dodgers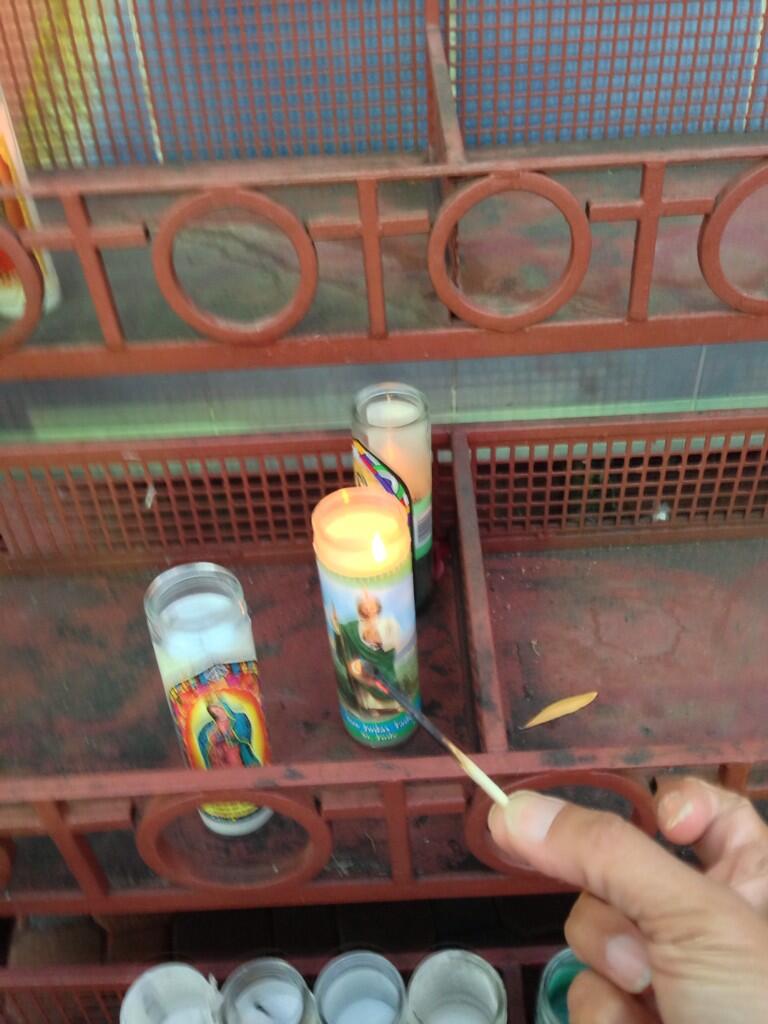 Afterwards, Lorena noticed that the candle that I lid (right), is the one for Saint Judas Tadeo, el santo de las causas desesperadas The saint of difficult causes.
While taking the train home I picked up the Downtown News.  Take a look at this cartoon by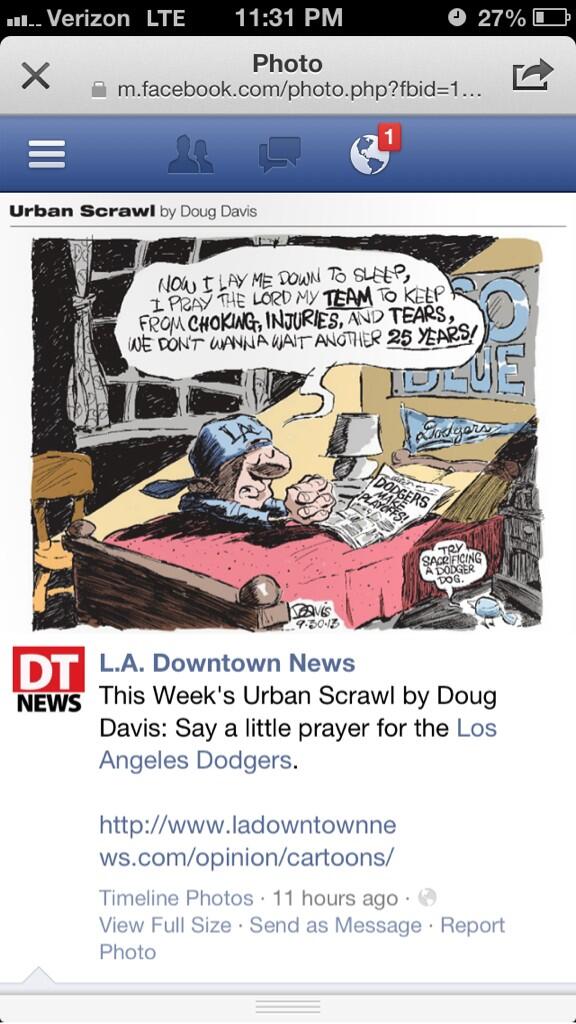 Cartoon by Doug Davis.  Amen Mr. Davis.
Let's go Dodgers! Let's Go!  Is it 5:30 yet?   I am sporting my Clayton Kershaw t-shirt (women size) underneath a cardigan sweater at work.  I have a pair of Dodger earrings on too.
Lost my post. booh to that 😦
Dodgers draw first blood in the NLDS series and beat the Cardinals 5-3! How about that?!!!!!!
Between both teams they left an NLDS record of 30 men on base! Vin Scully said "They don't need infielders, they need ushers!".
Vin Scully: I love you! As an added treat during the postseason, we get Vinny during the last three innings in addition to the first three innings he does on the radio during regular season. It does not getter than watching a game at the stadium and hearing Vinny on the radio.
While I was walking in the parking lot, I was talking with these two young guys about the starting times of two games and how he could not make that 3:07 game on Thursday. He then looks at me and says "Hey, you have a blog." "I read it every once in a while, well, i mainly look at the pictures." LOL Too funny. Here is a picture of Alex and Danny.
On Friday I was going to meet poster Truebluewill who posts in the Insidethedodgers blog. He was making his dream a reality of watching the boys in Blue in the postseason.
After much going back and forth, I was able to find him at his seat. He said he was collecting autographs earlier. I then noticed Vic the Brick was signing autographs (you can't miss this guy with a Dodger poncho, long hair and a long stick that makes him look like Moses), Anyway, I was asking him if he wanted me to take a pic of Vic and him when I noticed Maury Wills was signing there too. We got there and I helped him get the autograph! woohoo! I only wished Maury a Happy belated birthday. He did not stay long as he and Tommy Davis were throwing the first ball.
Here is a pic of TBW waiting for the augraph.
Here is TBW
Another poster from ITD that I was meeting for the first time, Scott and his son. They are both cute.
It was a pleasure meeting you guys!!
Well, It is 11:12 AM and I got to still take a shower, pick up a friend and head to the stadium. I wanted to say more but Alex only looks a pictures. LOL.
LET'S GO DODGERS!! LET'S GO!!
LET'S GO MR. SUNSHINE, CLAYTON KERSHAW!