What a treat for Christmas to have Vin Scully take over the Dodger account  on Monday.
As everyone knows, Vin Scully will be the Grand Marshall at the 2014 Rose Parade.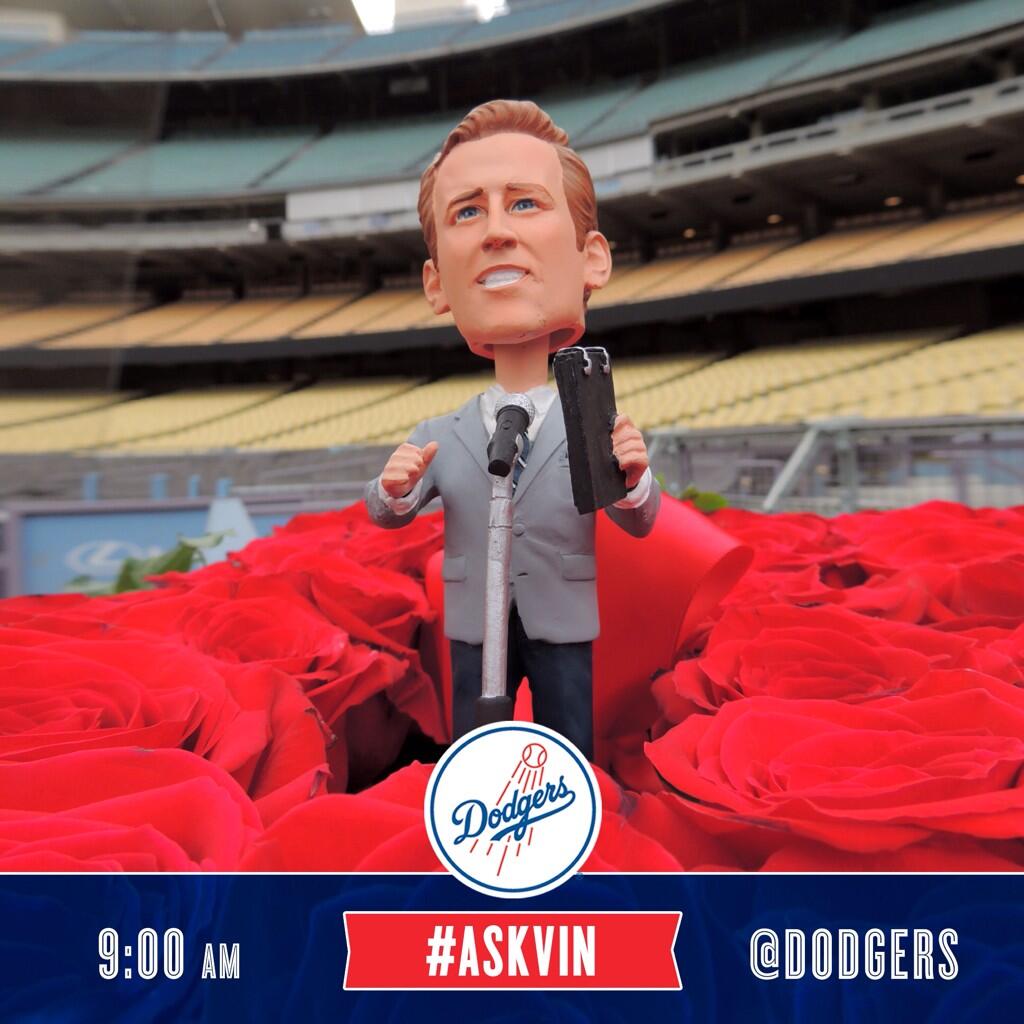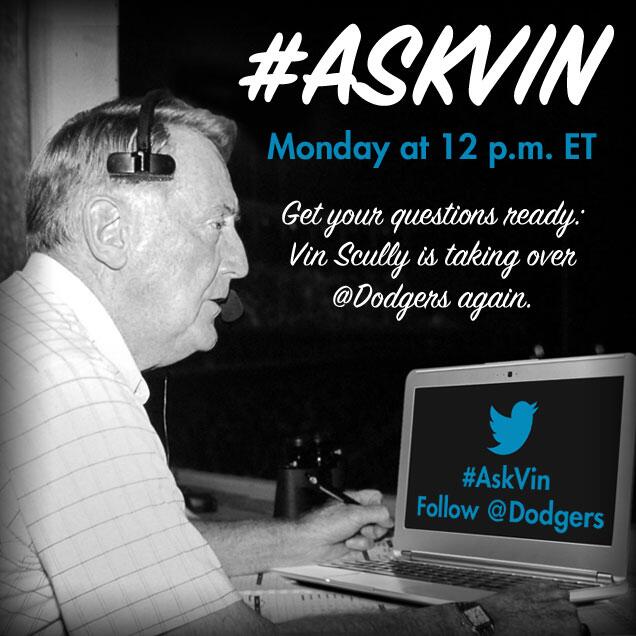 Here are the questions that Vin Scully answered:
Merry Christmas and a Happy New Year! A pleasure to be tweeting with you this morning. #AskVin
@Dodgers  #AskVin Are you going to the football game after the Rose Bowl parade? Maybe call a little of the game with @KirkHerbstreit ?
@Dodgers any special plans with the family for the holidays? #AskVin
No question but @Dodgers vin you are truly a great man and it's been an honor to have listened to you all these years #AskVin #VinIsTheMan
@Dodgers Vin, after many many years with the Dodgers, what play and game do you hold closest to your heart..#askvin
#AskVin what was your most memorable year
Making jury duty bearable. RT
@
Dodgers
: Pull up a chair — Vin Scully is now in the tweet seat!
#
AskVin
@Dodgers hey Vin, you have seen many great dodger pitchers. Where would you rank Kershaw among them? #AskVin
Vin, do you have an iPhone and what apps do you use? #askVin
@Dodgers Hi Vin. Merry Christmas! Do you have a favorite childhood memory from the holidays? The best gift you ever received as a boy?
@Dodgers favorite baseball movie? #AskVin
@Dodgers  Vin, I would be honored if you and your lovely wife would join us for Christmas dinner. #AskVin
#AskVin Where  and when did "Pull up a chair…" originate?
@Dodgers Mr.Scully #AskVin is now trending, your thoughts? pic.twitter.com/gcnV9ibrEe
@Dodgers Have you ever met Mariano Rivera personally? #AskVin
@Dodgers How did you arrange to have http://Santascall.org call your grandkids?
@Dodgers #AskVin Do you remember the first baseball game you attended?
@Dodgers Good morning, is there a particular celebrity memory that is a favorite?  Presidents?  Thrilled you're on twitter. Thanks!  #AskVin
@Dodgers who is the greatest baseball player of all time? #AskVin
And to conclude:
Thank you Vin for taking the time to answer questions on Twitter.  See you at the Rose Parade!   My question was favored by the Dodgers but it was not asked.  I wanted to know what is Vin Scully reading in the offseason.
Here are Vin Scully's tweets from today when he took over the @Dodgers from 9:30 to 10 a.m. PST.
Hi this is Vin Scully, delighted to spend time with you. We'll be tweeting for a little while & I look forward to that opportunity. #AskVin
I was deeply touched by all of the birthday wishes. Thank you. #AskVin
All of them. #AskVin RT @TheTonyLee: #AskVin What is your favorite Nancy Bea Hefley tune?
Favorite moment: I was much younger, more impressionable when the Dodgers won in 1955. That last game was the most emotional for me. #AskVin
Red Barber was like my father, he cared that I would succeed. He taught me preparation. #AskVin
The biggest clubhouse personality was a bat boy named Charlie di Giovanni.  He was a character, and we called him the brow.  #AskVin
On trending in the United States: "Oh my lord, it's a slow day." #AskVin
Maybe this was in response to my question or similar questions on his favorite stadium besides Dodger Stadium.
Outside of DS, Wrigley. Colorful fans and the game always in doubt. A special moment was broadcasting the first night game there. #AskVin
My favorite baseball book, "Three Nights in August." My current book that I'm reading is called "Unbroken." #AskVin
I've been hooked on a television show called "Homeland." They do that show so well. #AskVin
.@craigary Don't get too involved in new stats. There isn't any feeling for them. I'll have to be reeducated like with the Twitter. #AskVin
We used to have a Gordon Windhorn.  I used to say Gordon Widhorn and his orchestra.  Also Clayton Dalrymple, a WW officer. #AskVin
What a great morning!   This is the picture the Dodgers used to advertise Vin taking over the  @Dodgers for 30 minutes:
It is an old picture!  Look at the old monitor!
I can't wait till Monday at 9:30 a.m. PST when Vin Scully takes over the @Dodgers twitter account  for 30 minutes to answer questions from fans.   You must use the hashtag #AskVin to post questions.  
Mr. Scully celebrated his 85th birthday on Thursday. Steve Dilbeck of the Los Angeles Times checked in on Scully to see what he was doing for the occasion, to which Scully replied: "It's quiet and peaceful, and I'm reading a good book — 'Unbroken,' by Laura Hillenbrand — on this soft day".  
When I read that quote above from Vin, I could hear him in my mind saying it.  
Here is a favorite picture of Vin Scully and Jaime Jarrin taken by Jon SooHoo.     Mr. Scully has covered the Dodgers for the last 63 years.   Senor Jaime has covered the Dodgers for last 54 years.   We are truly blessed  listening to these two treasures.
 Now what can I ask Vin?    I did ask a question when Vin  was a guest at the Baseball Prospectus Dodger Stadium event.    
Here are some of the questions that have been submitted to @Dodgers #AskVin :
What is your favorite Fernando Valenzuela moment? And what baseball book would you recommend?
How many hours of prep work do u do before a game & do u prefer to work alone in the booth or with a color commentator?
From my friend Arturo: "Which Dodger Championship team would be your most memorable one?  
In Field of Dreams did you have a script or ad-lib?
As an aspiring broadcaster what can I do to make it big time?  I'd like to just like you and do play by play my whole life.
Should questionable players from the steroid era be voted into Cooperstown? 
I am sure that by tomorrow there will be plenty of more questions submitted, mines included.  
Let's  see if we can get Vin Scully trending tomorrow.