Remember back in March of this year when Clayton Kershaw was on the cover of Sports illustrated this year?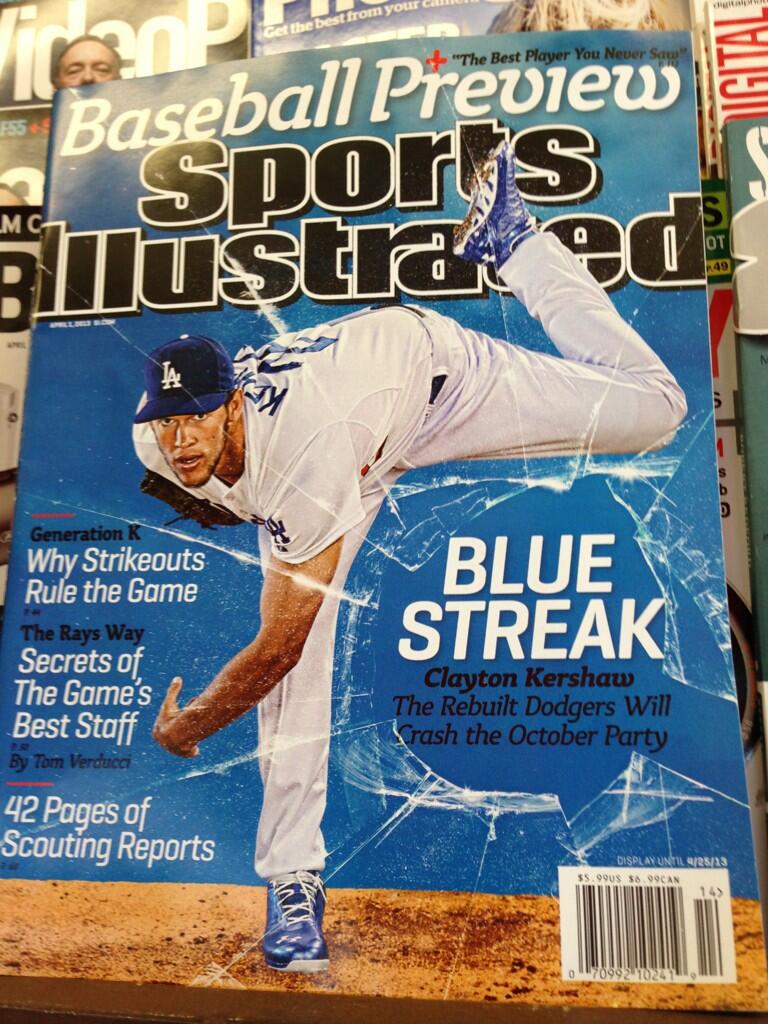 some fans thought it would be bad luck.  I remember back in March hunting down for the magazine.  Some had a different cover but I found copies in Northridge for myself, Lorena and Rosie.  Well it was not bad luck for Kershaw to be on the cover.   With a record of 16-9, and an ERA of 1.83, he won the National League Cy Young Award.  Congratulations Mr. Sunshine.
When Kershaw won the award in 2011, he had a record of 21-5 with an ERA of 2.28.  After the announcement in 2011, the Dodgers invited Season Ticket holders to join in the celebration on the field.  I had taken the train to work but when I got the email, I borrowed the work company car and I went to the event.  What a fun day at the stadium that was!  Don Newcombe & Fernando Valenzuela were also there.
Only Sandy Koufax and Kershaw have won more than one Cy Young award with the Dodgers.   Sandy did it in 1963, 1965 & 1966.
The first recipient of the Cy Young award was Don Newcombe in 1956.  For the first eleven years (1956 – 1966) only one winner from Major League Baseball was selected.
Don Newcombe went 27-7 with a 3.06 ERA in 1956 to capture the Cy Young
Ref:  MLB, Dodgers, LA Times, ESPN,  SABR
I have been very busy that I have not updated my blog lately.  I hope to get back on track.   I may not be posting as often but I am always thinking Blue and following any baseball news.  I am currently reading the book "It Pays to Steal"  by Mauy Wills.
I drove to work Monday because the traffic was going to be lighter on Veterans Day and because I had made an appointment to cut my hair and color it.   Since I was going to be there a little longer than just getting a haircut, I took the book with me.   Well, I forgot the book there.  I had rented the book from the Los Angeles Central library.  I had to drive the following day (I usually take the train to work)  to go pick up the book.
On my way home I was thinking… They don't know I am a big Dodger fan and a baseball fan.   I don't think they follow the game. What did they think when they read the book title  "It Pays to Steal."    I  know I had the bookmark  on chapter 9 "Formula for success"…. Maybe when I go back I will ask Carmen what they thought when they read the title.